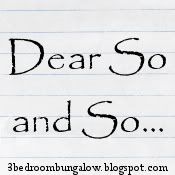 Dear Military Spouses,
Every now and then tragedy hits way too close to home. I'm thankful and proud to be part of such an amazing community of supportive women who take care of their own.
Dear Spring,
I'm so happy to finally see a glimpse of you. A 4 mile run in the sunshine was exactly what I needed this morning.
Dear Left Hamstring,
You pulled yourself 7 months ago. Now pull yourself together so I can start running again without you paining me!
Dear Weekend,
Please pass slowly. Time is getting shorter. I have too much to do.