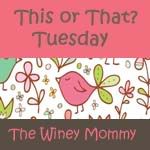 You show up at a party of an acquaintance. It's an evening party and you don't know very many people there. For whatever reason you decide to show up alone–and pray that your friends will indeed make it.
Would you rather show up under dressed or over dressed?
I'd have to go with overdressed. I'd much prefer that strangers stare at me because I look fabulous as opposed to receiving stares because I look like a bum. But maybe I only think this because, in actuality, I tend to be the underdressed one, and it's not fun.
Do you remember the father in the movie "My Big Fat Greek Wedding" and his belief that Windex was a cure-all? Well, my Windex is A & D ointment. Seriously, you'll never buy Chapstick or hand lotion ever again.
I wonder if handed-ness is genetic. My parents and my brother are all right-handed, while I turned out left-handed. I married a lefty and gave birth to a lefty. But my daughter is a righty. My theory? No genetics. My daughter and I just wanted to be different.
Why is it that every time I cook salmon my husband comes home late from work?
Have you noticed that the new Wal-Mart brand logo looks a lot like the Dharma Initiative logo from the show "Lost"?
Do you know what happens inside a sippy cup filled with milk that is misplaced for 10 days because your daughter hid it under your bed? Trust me, you don't want to know.
Random thoughts over and out.