The holiday season is upon us! People are busy shopping for the perfect gifts for loved ones, finalizing travel plans, decorating their homes, and cuddling up on the couch for that special holiday movie. And somewhere amidst all the chaos, we bloggers still manage to find the time to write about it.
In the spirit of bringing friends together during the holiday season, I thought I'd bring some of my mil spouse bloggy friends together to share our thoughts about the holidays. And what better way to do that than a blog swap. So I proudly present to you the Mil Spouse Holiday Blog Swap 2011!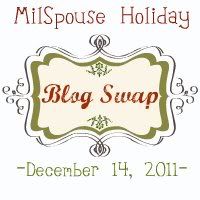 What's a blog swap? It's kind of like a Secret Santa, but instead of exchanging gifts, we're exchanging blogs. For one day, 28 military spouses will be guest posting for each other as we contemplate all things holiday. So check out all of the amazing participants of the Mil Spouse Holiday Blog Swap in the linky below as we invade each other's blogs!
document.write('